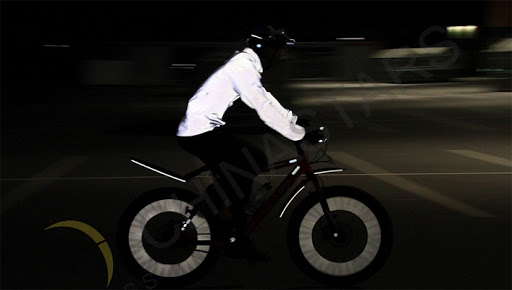 By living life gets better and better,  the vehicle and bike are normal walking tools in our daily life, you can easily find the many moving cars and riding people on the road even at night. Thus, nowadays, the traffic gets more complicated than before, which increase the efficiency of traffic accidents.
In this situation, it is essential to be visible on the road and the reflective fabric shows its advantages in visibility on the road.
High-visibility clothing is highly luminescent in its fluorescent fabric and reflective fabric.  Here, XW Reflective will show the features of reflective fabric in the following.
Reflectance: XW reflective fabric has excellent features of reflective brightness. For example, the typical value of reflective intensity is 500pcl for silver-gray series reflective products. And 700cpl is the typical reflective intensity of red and fluorescent yellow fabric. So, the reflective fabric can provide the most effective and reliable personal safety guarantee at night or in a poor light environment.
Wide-angle: The reflective material is not only superior to the similar products of other brands in terms of reflective effect but also has wide-angle property. When the light is incident at a great angle with the surface of the reflective material, it can still obtain a good reflective effect.
Diversity: In order to meet the characteristics and uses of other products, XW Reflective provide kinds of reflective material products for you to choose, such as reflective rainbow fabric, reflective sheeting, printed reflective fabric, and cotton reflective fabric, etc. such as reflective fabric, reflective thermosensitive film, Reflective plastic film, reflective ribbon, reflective ink, reflective drawing film, reflective yarn and SOLAS product.
Durability: the reflective material has advantages of good aging resistance, wear-resistance, and washing resistance. It can be washed or dry cleaned, and it is not easy to fall off after continuous washing.
XW Reflective is a leading reflective fabric supplier, reflective sheeting manufacturer, reflective material factory in China, provides top-quality reflective products in the clothing industry, traffic safety industry and advertising industry, etc. from the worldwide, if you are interested in our XW reflective materials products, please don't hesitate to contact us for more details.