Safety Raincoat
---
XW reflective is a leading reflective fabric supplier in China, produce reflective material by yourself, we also develop the reflective final products in our business structure, provide quality and competitive price reflective clothing to our customers, and the reflective raincoats are one of the reflective fabric products too.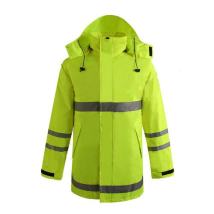 XW reflective is a leading reflective fabric manuacturer in China, with decades expenrience in safety clothing industry, cooperate with many safety vest, safet raincoat, ect reflective clothing factory worldwide, and we also produce hi vis reflective rain gear by ourself, controls the whole production from raw material to final reflective cloth products, we promise top quality for every one safety clothing, we make the reflective rain gear in a low cost, can provide you competitive price safety raincoat in a same quality than other supplier.
XW Reflective focus on the reflective material industry for many years and develop our reflective fabric pants, imported high advanced reflective fabric producing machine, specialized in providing the best reflective material to our customer, dividing the reflective material into different reflective grade according to the different requirements in a different application.
Under the background of strong reflective material supply capacity, XW Reflective begins to develop reflective clothing, reflective vest, safety pants such safety clothing products, we are committed to proving the best quality reflective pants for you. If you are interested in our reflective material clothing products or you are a reflective pant distributor,  please don't hesitate to contact us, join us, we will be the strong support behind you.
Reflective Safety Raincoats Ultimate FAQ Guide
---
Rainy and foggy weather can significantly inhibit your ability to see. In such weather, accidents are frequent as they affect people's line of sight. Therefore, you will need to have proper and high visibility rain gear to ensure that you can be seen and avoid accidents.
Reflective safety raincoats are expertly designed to enhance visibility and are suitable for highway workers, airport workers, construction site workers, emergency services motorists and cyclists.
Besides, they are worn to enhance visibility which therefore alleviates accidents caused by people not being seen.
What Is a Reflective Safety Raincoat?
A reflective safety raincoat is an ordinary bright or fluorescent raincoat; however, it is accentuated by luminous tapes that grab people's attention with striking reflection.
During bad weather, the reflective safety raincoat comes in handy as it will help keep you warm and dry.
Typically, most reflective safety raincoats are windproof, waterproof, weatherproof, and hoods to offer more protection.
What Is a Reflective Safety Raincoat Made of?
A reflective safety raincoat can be designed and made from numerous different types of fabrics or materials. However, the common materials are Polyester and Polycotton.
Two essential components are used in the making of reflective safety raincoats.
The most commonly used material is the Glass bead reflective tape. The highly reflective glass beads are half coated with aluminium, hence effectively reflects light back to the light source. Variations in the glass bead shapes and coatings cause light to be reflected in different angles.
A micro-prismatic strip is made of a specific type of plastic vinyl that is made up of many tiny prisms. These minute prisms located in the tape tend to bounce light around inside before reflecting it to where it came from.
The light reflected from the tape travels a long distance and maintains its intensity extraordinarily since it is focused in one direction.
Who Should Wear the Reflective Safety Raincoats?
Essentially, reflective safety raincoats are meant for the security of all individuals during unfavourable weather conditions such as rain, fog, and snow.
However, the garment is designed for every individual, from children to adults, to avoid accidents from occurring.
Various distinct teams should ensure they wear reflective safety raincoats in such weather conditions. These include construction workers, especially those working in low- or high-traffic areas. Besides, lightweight safety raincoats are ideal for them as they do not weigh them down.
Aside from that, hunters also greatly benefit from the reflective safety raincoats, especially during bad weather conditions. When working in or around heavy foliage, orange or red apparel options may be suitable.
Other individuals include airport workers, emergency medical technicians, police officers on patrol, highway crews, runners, walkers, and bikers.
How Do I Clean A Reflective Safety Raincoat?
Reflective safety raincoats are typical attire in rainy and foggy weather conditions. In the long run, they will get dirty and maintaining cleanliness is paramount in all circumstances.
Dirt inhibits the reflective properties of the reflective safety raincoat. It would help if you kept in mind that cleaning this garment is quite different from how you usually do your laundry.
Reflective safety raincoats contain reflective tapes that are supposed to be handled with care; otherwise, they will be wrecked and cease to serve their purpose. It is advised that you should wash the garment by hand. If so, keep in mind the choice of your detergent.
The detergent options are limited since using alkaline washing detergents will destroy the material. Therefore, you should go for a neutral detergent such as OxiClean, magic eraser, naphtha soap or shout. While washing, ensure that the neural detergent is fully dissolved in cold water.
Proceed to put the reflective safety raincoat in the cold water and let it soak for about twenty to thirty minutes. Softly rub the collar cuffs with stains and dirt. At the same time, lightly brush the reflective safety raincoat with a soft brush.
Besides, it would help if you did not dry it in a dryer or try to force scrub or wring dry. All these washing techniques will destroy the reflective material in the screwing process.
Therefore, airdry the garment but ensure that it is free from sun exposure. Intense sunlight damages the reflective material as it reduces the raincoat's reflective effect. Airdrying the reflective safety raincoat in the shade will extend the life of the reflective material.
Keep in mind that you should refrain from using a dryer as the heat of the garment against the drum can damage the reflective properties of the raincoat.
At the same time, avoid using fabric softeners; it may significantly damage the reflective safety raincoat. Similarly, avoid using bleach or any bleaching agents.
If you decide to machine launder the reflective safety raincoat, wash it in cold water on a delicate cycle. You can wash the raincoat with garments with like colours. Besides, try to avoid adding clothes with a rough finish, such as jeans, while laundering the raincoat.
Clothes with rough finishes are abrasive and wear out the microscopic glass on the reflective tape. Moreover, you can tumble dry the reflective safety raincoat on low heat; nevertheless, keep in mind to remove it immediately.
Remember not to iron the reflective safety raincoat as the heat may damage the microscopic glass beads.
What Are The Performance Classes Of Reflective Safety Raincoats?
When purchasing reflective safety raincoats, you should keep in mind the various options offered. They vary according to reflective tape patterns and different colourways.
The recognized ANSI/ ISEA 107-2015 standard that is voluntary sets forward what is considered an approved fluorescent material and a reflective tape and what level of coverage and brightness are highly recommended for different work environments.
The ANSI 107-2015 standard recognizes four Performance classes: Class 1,2,3, and E, and three garment types: Type O, P, and R.
Performance Classes
Performance Class 1 clothing provides the least number of high-visibility fabrics needed to distinguish the wearer from plain or non-complicated work environments such as factories and warehouses.
On the other hand, Performance Class 2 are clothing that consists of additional amounts of high-visibility materials that enable a better definition of the human form. It is viewed as the minimum level of protection for workers vulnerable to roadway rights-of-way and TTC zones.
Lastly, Performance Class 3 garments provide the most significant number of high-visibility fabrics to enable the best and precise definition of a human form in both a full range of environmental and complex backgrounds. Mostly, you will find road or maintenance workers in highway work zones wearing Performance Class 3 clothing.
Garment Types
Reflective safety raincoats fall under three garment types. Type O is a class one type of garment type. It is suitable in a low-impact area where traffic does not surpass 25 miles per hour.
On the other hand, type R garments are ideal if you come in contact with heavy traffic or are in an area of low visibility. Lastly, type P garments are suitable for you if you are within areas with heavy traffic and low visibility. It is suitable for public safety.
What Are The Features Of Reflective Safety Raincoats
Before all else, you should establish that your reflective safety raincoat meets and satisfies the set ANSI standards for high visibility apparel.
Nevertheless, numerous aspects make the reflective safety raincoat stand out from regular raincoats.
These include the following:
Reflective stripes on both the back and front of the reflective raincoat that shines in the dark when exposed to light and reflects light in the direction of its source
High visibility
The reflective safety raincoat is waterproof with sealed seams
Vented back cape with D-ring opening
a stain-resistant PU coating
It is breathable; thus, the raincoat keeps the moisture away from the body and keep your body dry
Windproof
A roomy hood that is deep enough to keep water off the face
What Are The Benefits Of Reflective Safety Raincoats?
Safety
Rainy and dreary weather is quite chaotic; hence accidents are prevalent during such times. Since such weather conditions create an unsafe environment for individuals, especially workers, drivers, and pedestrians, reflective safety raincoats increase their visibility and avoid accidents.
Convenient
Many a time, crews find it difficult and cumbersome to work in rainy and foggy weather conditions. Luckily, reflective safety raincoats allow the crew to be safe. Besides, the raincoats allow the crew to stay dry and keep on working. Other than that, lightweight reflective safety raincoats are suitable for the crewmen as they dry up quickly and do not weigh them down while at work.
Highly Versatile
Reflective safety raincoats are available in various performance classes and garment types. When purchasing your reflective safety raincoat, you can opt for one that suits your environment and needs. For instance, athletes opt for lightweight reflective safety raincoats. On the other hand, during winters and heavy rain seasons, people opt for breathable and bulky reflective safety raincoats.
What Considerations Should I Make When Purchasing A Reflective Safety Raincoat?
Since reflective safety raincoats are all about safety, you should first consider their visibility. Going for high visibility reflective safety raincoats assure you of your safety while walking, running or even jogging during the unfavourable weather.
The key is to go for the high-visibility safety raincoat that provides the most significant magnitude of the disparity between your body and your surroundings.
Aside from that, it would be best if you consider the heaviness of the material. During winters, you should opt for heavy and warm reflective safety raincoats. However, if you are an athlete, you should consider going for reflective raincoats that are sleek and not bulky.
Lightweight reflective safety raincoats allow athletes to manoeuvre simply. Besides, they weigh the wearer down and dries quickly.
Other than that, you should ensure that the reflective safety raincoat meets and satisfies the ANSI/ ISEA 107-2015 standards.
The ANSI/ISEA 107-2015 standard dictates what an approved reflective safety raincoat and what level of brightness and coverage is recommended for various work environments.
Ensure that your raincoat falls under the four recognized Performance classes: Class 1,2,3, and E, and three garment types: Type O, P, and R.
Does Xingwei Supply Safety Raincoat?
Yes, XingWei is a manufacturer that has refined the process, compliant with the best quality control processes and supply.
With over three decades' experience in manufacturing safety raincoats, the engineers have perfected the art and supplies safety raincoats to clients worldwide.
If you think this product might be ideal for you, do not hesitate to contact us today for a quick response.
Frequently Asked Questions
What Is The Life Expectancy Of The Reflective Safety Raincoats?
Essentially, all high visibility clothing have a limited durability time that significantly depends on the frequency of use. Therefore, you have to constantly check on how you take care of your reflective safety raincoat.
If you would like your raincoat to last you for a long time, ensure that you follow the enlisted guidelines on cleaning and maintaining it.
What Colour Should I Buy?
Per ANSI 107, the standard and acceptable high-visibility colours are fluorescent yellow-green, fluorescent orange-red. In in-depth scrutiny, fluorescent yellow on reflective safety raincoats intensifies a sharp contrast that may be easily distinguishable in rival backgrounds. Therefore, it is regarded as a contrast for detection.
At the same time, there is apprehension for conspicuity, which is orange, as it offers an intense apprehension.
Furthermore, orange is recognized and perceived as a hazard identifier translating to "watch out" or "caution".
How Do I Clean My Reflective Safety Raincoat?
Usually, it is recommended that you should limit the number of times that you should wash your reflective safety raincoat.
However, when cleaning your reflective safety raincoat, ensure that you do not use harsh detergents. Instead, opt for neutral ones. Besides, avoid using bleach and fabric softeners as they damage the reflective property of the garment. Other than that, you should follow the cleaning tips earlier enlisted.
Which Class Of Safety Should I Buy?
Typically, Class 2 and Class 3 are the most advocated reflective safety raincoats to buy. Class 2 reflective safety raincoats are suitable for individuals working in poor-light areas and heavy traffic, which does not surpass 25 mph and below 50 mph.
Anyone acting as a labourer, survey crew, or flagger in these hazardous areas should wear a Class 2 reflective safety raincoat.
Class 3 reflective safety raincoats enhance workers' visibility in hazardous high-traffic environments and work in poor lighting conditions.
An excellent example of this situation would include workers in snowy conditions on a busy road.