High Visibility Safety Shirts for Workers and Runner
---
Reflective T-shirt is also called reflective vest, a reflective fashional safety clothing made of reflective material inlaid in the clothes.
The manufacturing principle of reflective safety vest, is to make use of heat transfer technology to print reflective materials on the T-shirt, or sew the polyester reflective strips on the T-shirt.
In terms of the safety effect of reflective clothing, when the relevant lines are illuminated, the reflective T-shirt will reflect the lighting, thus the reflective effect can be achieved.
Moreover, this reflective vest can reflect the distant direct light back to the light-emitting place, and has good retroreflective optical performance no matter in the day or night. So this reflective T-shirt can enhance the visibility of people in the night, ensure safety at night.
Therefore, Reflective T-shirts generally used in warning clothing, such as traffic police, sanitation.
But with the rise of fashion storm, it is also gradually applied to daily clothing, with the reflective intensity above 350cpl. So wearing the reflective T-shirt is not only has a fashionable personality, but also plays a warning role to protect pedestrian safety!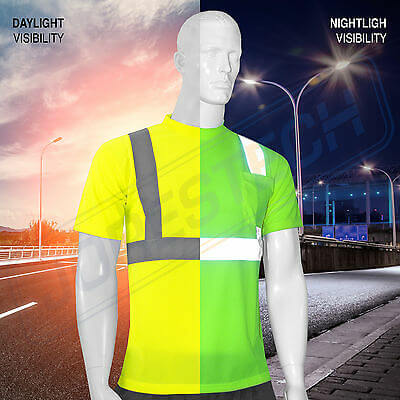 ♦ Reflective T-Shirts Data 
| Item Name | Reflective T-Shirts |
| --- | --- |
| Color | Fluorescent yellow/orange |
| Fabric  | 100% Polyester 150 gsm Birdseye Knit |
| Season | Summer |
| Size  | S/M/L/XL/XXL/XXXL/XXXL |
| Application | traffic police, sanitation workers, runners |
♦ Safety Reflective Shirts Designs 
Here are are the classic and popular designs, however, we accept custom style, free design, support printing, logo printing, samples available.
♦Fabric for Reflective Shirts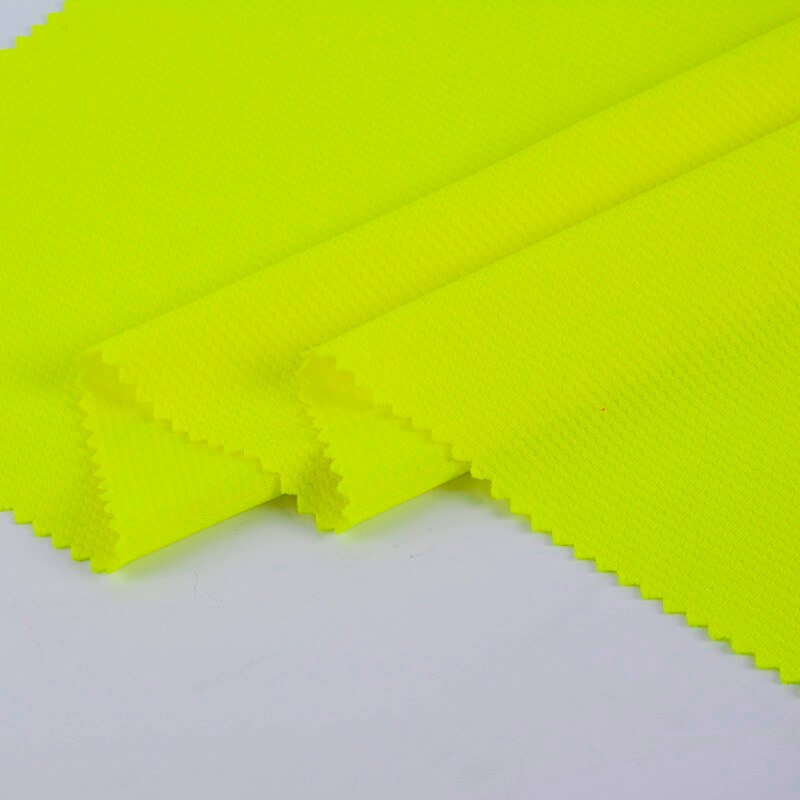 | Safety Shirts Material | 100% Polyester Birdseye Knit |
| --- | --- |
| Standard Weight  | 150 gsm |
| Color | Fluorescent yellow/orange |
| Feature | Breathable, lightweight, comfortable |
| Season | Summer |
| Material weight | 140 / 160 / 180 gsm |
♦Reflective Tape for Safety Shirts 
Reflective T-shirt: is also known as the reflective vest or luminous vest. On the T-shirt, there are different quality levels of reflective tapes, which reflect light strongly during night time or weak lights situations on the road.
Generally, reflective material is processed in the main parts of clothing by sewing, hot stamping, or both processes, which is used for personal protection at night or in bad weather.
For example, if the light is very dark, common clothes can't reflect light, so it's not going to be seen. But the special material on this kind of reflective clothing can reflect the most light, and it can be seen far away.
In application, because of the warning function, this vest is common to wear on the traffic police and sanitation workers, is also applied in life jackets, lifebuoys and lifeboats, so it is suitable for police, firefighters, security guards, and logistics personnel to wear when performing official duties or work.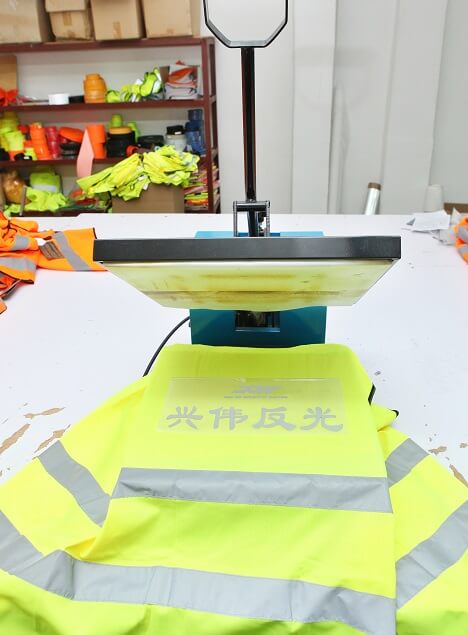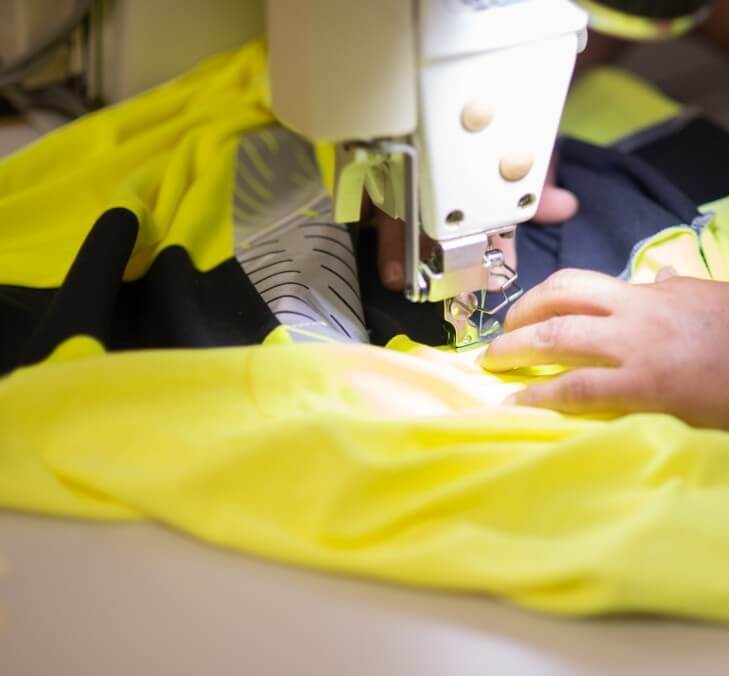 ♦Safety Clothing Production 
Quality Control
Our QC staff is in charge of quality inspection, including thread cutting, checking whether the front and back sides are wrapped completely, checking whether the pockets are neat, and then the next process is packaging
Package & Leading Time
Package Description:
100 pieces/box
one box size : 45 * 25 * 48M
Gross weight: 13KGS
Leading Time: 20-30 days
MOQ: 500 pcs for design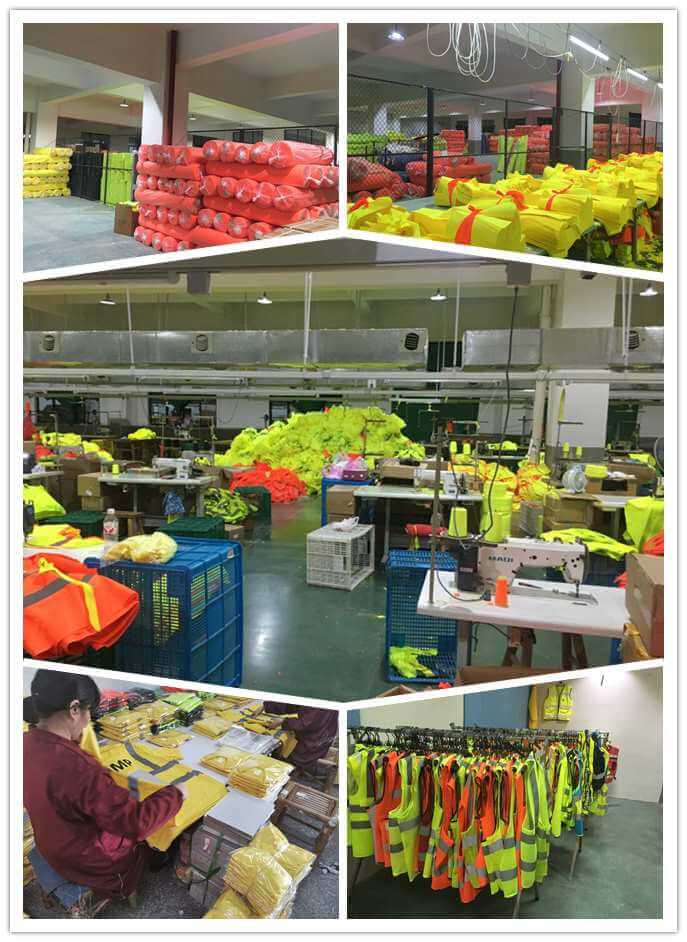 Who is wearing a reflective t-shirt?
Someone who needs to work continuously at night, such as traffic police, sanitation workers and construction sites, etc.
When the external light is insufficient, you can't see the surrounding situation clearly, and it's easy to have an accident. So it is necessary to wear a reflective safety vest in their work. Of course, we can also customize many very fashionable clothes for young people.
So our clothes are not only suitable for the staff with the warning functional needs, but also suitable for the young people who pursue fashion.
How to make the reflective t-shirt?
Fluorescent yellow base fabric, silver-gray reflective tape.
What is the benefit of wearing t-shirts? 
Suitable for night operation or traffic command; emergency rescue command site; production site; emergency rescue site.
Can you do OEM? 
We accept custom style, free design, support printing, logo printing, samples available.
What is the instruction for reflective shirts?
The cleaning temperature of the reflective vest is 40 ° C (please refer to the clothes label for the specified cleaning times), and gradually reducing the cleaning temperature.
Reducing mechanical operation.
Do not use bleach.
The temperature of the bottom of the iron is 110 ° C, and steam ironing may cause damage to the clothes.
No dry cleaning, no solvent decontamination. Do not dry the drum.
It is forbidden to use strong alkaline detergent, washing solvent, or bleaching agent.
What is the storage instruction and performance? 
Reflective shirts should keep in the original packaging, away from light and humidity. and reflective t-shirt meets the requirements of GB/20653, harmless, comfortable to wear, waterproof and breathable, good flexibility, grade 2 of reflective fabric.
Precaution of wearing the reflective vest 
Before wearing, check to make sure that the clothes are not dirty or worn, otherwise the performance will be affected. Check to make sure that the grey reflective stripes are outside the vest and the straps on the shoulders are also in front of the vest to ensure that the stripes remain in place during use. The reflective vest should be fastened at all times. It is forbidden to wear vest except for the above regulations.
♦ CONTACT US
---
If you are interested in our rainbow reflective material, please contact us for a quick quote!
Fully Safety Shirts Ultimate FAQ Guide
---
A safety shirt is some clothing with high visibility colours such as lime yellow and orange that are worn in areas that pose danger.
Safety shirts are expertly designed to enhance visibility and are suitable for highway workers, airport workers, construction site workers, emergency services, and can also be worn as a substitute for a safety vest.
Safety and health regulations frequently need the use of high visibility clothing since it is a form of personal protective gear or equipment.
Importantly, safety shirts also referred to as high visibility shirts are worn to enhance one's visibility which therefore alleviate accidents caused by people not being seen.
Therefore, it is mostly worn in occupations where dangerous situations exist by low lighting conditions or moving vehicles. Additionally, motorists and cyclists also use safety shirts to enhance their visibility on the road.
Also, managers and directors of warehouses and plants where heavy machinery and equipment is operated insist that providing their employees with high visibility shirts can decrease incidents resulting in accidental dangerous injuries.
What Is A Safety Shirt Made Of?
A safety shirt is made of 100% moisture wicking polyester mesh material that significantly assists in drawing moisture away from your body.
Such moisture wicking shirts are essential for roadway crews, construction workers, and landscapers. More importantly, polyester is a good breathable material that enhances air circulation and ensures that your body is cool.
Polyester is astonishingly durable, as it can withstand the wear and tear of work. Additionally, the polyester is vital forholding the bright dyes that are used, in a better manner.
Polyester is new material also known as moisture wicking, performance, sports fabric or driffit.
Apart from holding dyes excellently, they are conspicuously brighter and will remain brighter even after repeated or repeated washing, as they do not quickly fade.
It is important to bear in mind that polyester is the only type of material that reflective stripes is commonly used on and can be regarded as an ANSI Class 2 or Class 3 Hi-Vis shirts.
How Does Safety Shirt Work?
High visibility shirts are regarded as essential personal protective equipment (PPE) in these challenging work environments and will authoritatively carry an ISEA/ANSI class rating for enhanced visibility.
There are many times and places that you can think of that you need to be seen or easily visible. For places such as construction sites, one needs to be easily seen and from times where there is heavy rain, snow or it is getting dark, one needs to be easily seen.
Therefore, when wearing these high visibility shirts, you can work in both comfort and safety. The safety shirts are made of luminescent-coloured materials that make you easily visible from any background.
Additionally, the top-notch quality retro-reflective material used on the safety shirt enhances visibility.
These two important elements are what satisfies the purpose of the safety shirt, rather signifies how they work. All you have to do is just easily wear a vibrant, bright, and reflective safety shirt.
This will make you noticeable and visible to all those in the area, preventing risks, injuries, and accidents.
How Do I Clean The Safety Shirts?
Safety shirts require much attention when cleaning them. Safety shirts should always be washed in cold water on a very gentle cycle.
Ensure that you turn the safety shirts inside out to prevent the damaging of the reflective stripes. You can work with mild detergent and stay away from bleach, fabric softener, or hydrogen peroxide.
Such bleaching agents are highly discouraged for safety shirts as they can yellow the material and decrease the effectiveness of the reflective. You can proceed to tumble dry on low setting or line-dry whenever possible.
At the same time, ensure that you do not dry clean or iron these safety shirts. If you want to remove stains from the safety shirts, do not scrub the colour-enhanced fabrics on safety shirts;  this can create a worn-out appearance and reduce the reflectivity.
Instead, you can work with a clean dry cloth and a mild stain remover that does not bleach, and gently wipe the affected areas.
Additionally, good cleaning products for spot cleaning safety shirts include Fels Naptha Soap, Zout, OxiClean, Mr Clean Magic Eraser and Shout.
Who Should Wear Safety Shirts?
Surprisingly, most people think of safety shirts as being worn for emergency services only. Nevertheless, numerous industries depend on keeping employees seen at all time with safety shirts.
Therefore, construction workers, airport workers, highway workers, cyclists, runners, motorcyclists, railway workers, surveyors, landscapers, are those people who should wear these safety shirts.
Construction workers should wear safety shirts to enhance their visibility in traffic. Emergency medical technicians frequently work amongst traffic therefore, they need to wear their safety shirts as they are less constricting and enables greater movement.
Police officials also wear safety shirts so that those who are on foot, bikes, vehicles will see them clearly.
Also, runners, bikers, and walkers who participate in physical activities that are near the road, need to wear safety shirts so that they can be more visible.
What Certifications Does Safety Shirt Need To Have?
Certifications are international standards that stand as a quality stamp to signify a proven and authentic product. It highlights that both the material and suppliers are quality assured.
Moreover, it also guarantees that the product has been produced under exceptional working conditions and with multiple checks along the way.
Certifications also signify that the product has also went through wearer attempts before putting into production.
The following are certifications that safety shirts need to have. EN ISO 20471 requires all reflectors to meet the requirements of Class 2 with regard to the reflector's ability to reflect light. EN 342:2017 certifies that safety shirts protect you from the cold.
EN 343:2019 is used to put in different values to material that protects against the rain. EN 343 is mostly a European standard for protective clothing as it guarantees the utmost comfort even when it is rainy or windy. It assures breathable, win and waterproof clothing.
EN ISO 11611 highlights the minimum requirements for protective clothing used when performing or welding similar processes with related risks.
EN ISO 11612 signifies that the clothing provides protection against thermal hazards of an electric arc. EN 1149 3:2004 describes the breakdown of electrostatic charges from the surface of the clothing fabrics.
EN 1149 5:2008 guarantees the needs for the design and material of electrostatic dissipative protective material. EN 13758-2 UPF 40 certifies that the safety shirts have properties that protect you against the UV rays.
Lastly, EN 13034 signifies protective clothing against harmful liquid chemicals.
What Are The Available Classes Of Safety Shirts?
These safety shirts that are made of highly reflective fabrics that keep workers visible, are assessed, rated, and approved by the American National Standards Institute(ANSI).
Safety shirts are classified as Class 1, Class 2, and Class 3, depending on the amount of both high contrast (lime or orange colour) and reflective material making up for the shirt.
Class 1 safety shirt are for those who work in low-impact areas such as areas where traffic flow is not more than 25 mph. They are normally used by delivery drivers, roadside assistance personnel, and parking attendants.
All Class 1 safety shirts have the reflective stripes around the middle in a 360° stripe and above each shoulder. These safety shirts should also be of bright orange or yellow colour.
Class 2 safety shirts are for those who work near heavier traffic and in poor visibility areas.
Its reflective stripes should be over the shoulders and also around the middle in either one or both of the 360° horizontal stripes.
Class 3 safety shirts are for those who are in high-traffic locations such as emergency responders, utility crews, site inspectors, and railway workers. Traffic in such areas may exceed 50 mph and workers are working next to the road or in dangerous areas therefore, there should be enhanced visibility.
What Are The Performance Classes Of Safety Shirts?
ANSI/ISEA 107-2020 consists of four performance classes such as Performance Class 1, Performance Class 2, Performance Class 3, and Supplemental Class E.
Each performance class has particular minimum design needs regarding the background materials, retroreflective/combined performance materials and the width of reflective fabrics used in the clothing.
Performance Class 1 provides the minimum number of high-visibility materials to enhance visibility of users in non-complicated work environments and is mostly appropriate for off-road (Type O) areas.
Performance Class 2 are clothing that consist of additional amounts of high-visibility materials that enable better definition of the human form. It is regarded as the minimum level of protection for workers vulnerable to roadway rights-of-way and TTC zones.
Performance Class 3 consists of an even significant minimum level of high-visibility fabric the apparel must sustain. This class offers more visibility to the wearer in both complex background, combined and retroreflective performance materials.
Do I Need Reflective Stripes On The Safety Shirts?
Yes, you need reflective stripes on the safety shirts. There are retroreflective stripes which are either white or silver, or the combined-performance retroreflective stripes which are either fluorescent bright orange or fluorescent bright yellow.
These reflective stripes enable the wearer to be visible and easily noticeable by other road users.
It is important to know that these reflective stripes are made of retro-reflective fabric that typically includes tiny glass beads or prismatic elements encapsulated in a transparent film, that greatly reflects light back to its source.
When these reflective stripes are used on safety shirts, they brightly reflect other people's light and warns them of your presence.
These reflective stripes are mostly applied in different patterns such as horizontal, vertical, and X patterns.
What Are The Benefits Of A Safety Shirt?
Safety shirts are highly essential for particular professions to ensure the safety of workers.
Safety shirts create and maintain a safe working environment which is vital for every business.
Employers are responsible for enforcing safety regulations and preventative measures against accidents. Therefore, safety shirts guarantee the visibility of employers which helps people notice them.
One major perk of these safety shirts is that they are ideal even for warmer months since they are breathable and lightweight.
At the same time, safety shirts enhance teamwork and security because getting the employees to collectively wear similar clothing makes them feel more welcome to the team and progressively to each other thus enhancing teamwork.
At a glance, safety shirts decrease the likelihood of accidents happening because people are easily seen and noticeable. Safety shirts offers and insists on the importance of health safety because they push the workers to mind their own safety.
Frequently Asked Questions
Which Class Of Safety Should I Buy?
Class 2 and Class 3 are the most recommended safety shirts to buy. Class 2 visibility is for those who work in poor-light areas and heavy traffic which does not exceed 25 mph and below 50 mph.
Anyone acting as a labourer, survey crew, or flagger in these hazardous areas, should wear a Class 2 safety shirt.
Class 3 safety shirts enhance visibility for workers in hazardous high-traffic environments and also working in poor lighting conditions.
A good example of this situation would include workers in snowy conditions on a busy road. Workers who work where vehicles exceed a speed of 5-0 mph should wear a Class 3 safety shirt.
On the other hand, Class 1 safety shirts do not protect workers from the hazardous situations that they face.
What Colour Should I Buy?
In accordance with ANSI 107 the standard and acceptable high-visibility colours are fluorescent yellow-green, fluorescent orange red.
In an in-depth scrutiny, fluorescent yellow on safety shirts enhances a sharp contrast that may be easily noticeable in competing backgrounds. Therefore, it is considered as a contrast for detection.
On the other hand, there is recognition for conspicuity which is orange as it provides a strong recognition and identifies as a hazard identifier translating to "watch out" or "caution".
Orange has been extensively used in road construction safety shirts , cones, signs, barrels, and delineators.