CORRECT CARE LICENSE PLATE REFLECTIVE SHEETING PURCHASE GUIDE
---
♦ Reflective License Plate Film Products

---
Embossed number plate reflective sheeting XW6200 is enclosed beaded retro reflective sheeting, with 5 years outdoor life span. The features of Acrylic resin is flexible and tearable, suitable for using on embossable car license plate reflective tape in Spain and Africa.
The one works best for you
According to different laws in the worldwide countries for the license plate reflective sheeting, thus XW Reflective list some of our regular reflective material and hope to help you find what you want. 
---
♦ Embossed License Plate Reflective
Embossed Reflective Sheeting is the most widely used reflective car license plate. XW provide different kind of Embossing Films, which are XW8200 reflective vinyl, XW6600 reflective sheeting and XW5200 reflective vinyl for license plate.
XW8200 reflective plate sheeting has ISO7591 certified, commonly used in legally recognized car license plate reflective sheeting, special license plates, etc. Europe, Brazil, India, Mexico are qualified for it.
XW6600 license plate reflective sheeting for motor plate is Non-regulated, mostly used as reflective motor plate, custom reflective vinyl plate. And this reflective vinyl sheeting is also used as a reflective license plate for some countries which no specific legal supervision of license plates. The advantage is cost saving.
XW5200 enginner grade reflectve films are used for reflective embossing plate in Spain and Africa, It's regulated.
XW8200 reflective sheeting needs work with hot stamping foils, which XW5200 enginner grade reflective film does not need. It will coating black into onto alumium, thus subsitite the hot stamping foils. After embossing the letters, peeling off the reflective film and aluminium foil.
You can find sheet below for a quick compare. And learn them more from their details pages. You can also click CONTACT US to get more suggestions or sample from us.
♦ Non-adhesive Number Plate Reflective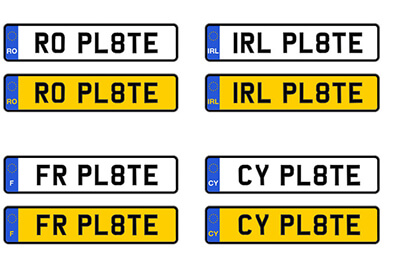 XW7201 number plate reflective laser sheeting design for Laser/Themal printing, good sale at HongKong and Europe, especially the UK and Spain. The vinyl is non-adhesive, Frosted Acrylic face film backing with 75 mics PET.
As a special product, its initial reflection coefficient is low, but after apply to Acrylic plate (Or other plate) the reflective can reach 50 CIL/Square Meter.
♦ Adhesive On Reflective Layer License Plate Vinyl
XW5600 reflective sheeting vinyl is very hot selling in HongKong, South Africa, and UK. this reflective heat transfer vinyl film has a very shiny surface, and the adhesive area on the surface of the reflective layer.
♦ CONTACT US
---
If you eager to know more details about our reflective license plate films, please fill out XW Reflective form, feel free to contact us!