HIGH VISIBILITY SAFETY VEST
---
XW Reflective provides various safety vests to enhance the visibility of workers, police, cyclists, pedestrians, or pets in low light conditions according to the light intensity requirements.
XW Reflective provides professional safety vests that have high requirements on the intensity of the safety vest clothing, meeting EN ISO 20471 and ANSI/ISEA 107 requirements. custom safety vest design and logo imprint are available.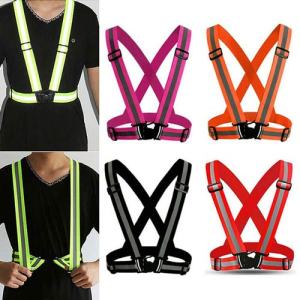 XW Reflective running safety vest is popular for runners or sporters, can enhance the visibility of people who wear it at nigh such low lighting condition, so that the running safety vest is very important for the outdoor safety.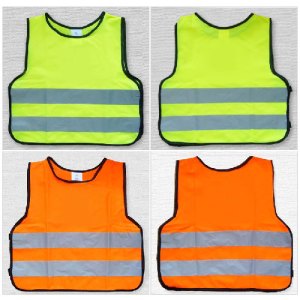 Children's safety vest can reflect the light into the headlight or road light such as lighting source, remind the drivers by reflecting light, keep them safe on the road. XW Reflective has kinds of fashionable patterns and styles of children vest for selection.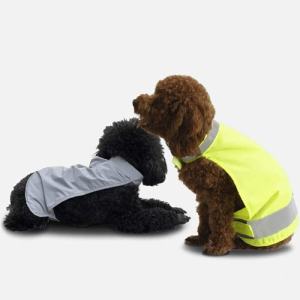 PET safety vest can attract the driver's eyes on the pet, dog, or cat, remind drivers to keep away from their pets, protect pets from a traffic accident. XW Reflective has our own reflective materials factory, all PET safety vest has quality assurance and competitive price.
XW Reflective has our own raw reflective material manufacturer, can get low-cost reflective material and easy to control the raw material during the process of reflective material tapes manufacturing, the whole production from raw reflective materials to final reflective clothing, XW Reflective promises the quality of every step, and you can track every reflective vest from raw material to final safety vest products, totally shows to our customers.
XW Reflective provides safety vests, Hi-vis jackets, safety pants, safety raincoats, safety shirts & sweatshirts, and safety coveralls at wholesale price, if you are looking for a good price & quality reflective clothing, or you want to have customized design for reflective clothing in a big production, you are welcome to contact us for more details online or visit our factory for more information.
Safety Vests Ultimate FAQ Guide
---
A safety vest lightweight clothing can help save your life and potentially protect your general safety.
Safety vests are beneficial and potentially life-saving clothing that is exceptionally light, comfortable, and especially useful clothing used in various situations. Hence, if you are working in places with a high risk of accidents, it is paramount to utilize the safety vests fully.
The primary role of the safety vests is to enable the wearer to be visible and to alert everyone that a person is present in the field of vision, especially in low visibility situations such as rainy, snowy, and dusty situations.
These safety vests are worn mainly by emergency personnel, road flaggers, construction crews, airport workers, railway crew.
Ideally, a safety vest should be worn in both daytime and night-time situations and is highly essential as a safety tool for numerous different industries and reasons.
Who Should Wear A Safety Vest?
Numerous workers must wear safety vests to decrease the number of incidents resulting from on-the-job injuries and accidents.
People who are required to wear these safety vests include
Railway workers, highway crews
Loggers
Commercial fishers
Airport workers
Hunters
Construction tradespeople
Warehouse workers
Motorcyclists
Emergency responders
Cyclists
Runners
Landscaping professionals
Surveyors
Trash
Recycling collectors
How Do I Choose A Safety Vest?
The catch here is to choose the safety vest that provides the most significant degree of contrast between a worker's body form and their surroundings.
In many states, hunting was clear that hunters should wear fluorescent orange safety vests to differentiate them from wild animals.
When working in or around heavy foliage, red or orange safety vets are the preferable option.
Superlatively, the colour of the work zone or background equipment can also determine the most favourable choice of fluorescent background materials.
Lifeboat crews and professional fishers must use orange safety vests since it is the most visible and appropriate colour against the black or dark blue background of the sea.
Bicyclists and runners running in poor visibility conditions or running in or near inhabiting highways or sidewalks in high traffic areas should also wear safety vests since it is incredibly essential to be visible in poor lighting situations.
What Is A Safety Vest Made From?
A safety vest is made from reflective material and usually comes in various bright or fluorescent colours.
Typically, a safety vest can be designed and made from numerous different types of fabrics or materials.
However, the common materials are Polyester and Polycotton. Also referred to as high visibility clothing(Hi-Vis) are made from fluorescent fabric with reflective shapes or tapes enhanced for extra visibility.
There are two primary materials incorporated in the making of these safety vests: glass bead reflective tape and micro-prismatic tape.
A micro-prismatic strip is made of a particular type of plastic vinyl that consists of many tiny prisms. These prisms located in the tape bounce light around inside before reflecting it to where it came from.
The light reflected from the tape goes far and maintains its intensity exceptionally since it is centred in one direction.
Glass bead reflective tape is the most typical type. The material incorporated in the silver-grey strips that are common on commercial hi-vis materials.
Glass bead reflective tape is more affordable. What sets it different from the micro-prismatic tape is that the glass bead reflective tape reflects light from any source at a broader angle which typically means that the light does not travel.
How Does Safety Vests Work?
Principally, the sun's ultraviolet rays react with the fluorescent or bright colours of the clothing to enhance a glowing appearance.
This glow's effect is much more substantial in times of poor lighting conditions like dawn and dusk. Moreover, the safety vests can also work using ultraviolet light from various sources such as car headlights.
Ideally, safety vests come in different colours such as green, red, blue, and orange. Nevertheless, it is frequently the most effective fluorescent shades like orange and yellow that are used for safety reasons. This is why you will see construction workers, road and railway workers, and the airport crew in these yellow or orange safety vests.
How Do I Clean These Safety Vests?
To enhance safety, numerous workers will continuously wear these safety vests when they are working.
Eventually, these safety vests get dirty and maintaining cleanliness is paramount in all circumstances.
The cleaning method of these safety vests is not the ordinary way to clean our other clothes. Safety vests have reflective tapes that are supposed to be handled gently; otherwise, they will be damaged, and they will no longer serve their purpose.
The detergent options are limited since using alkaline washing detergents will destroy the material; hence using a neutral detergent is the best option.
When it comes to washing the safety vests, ensure that the neural detergent is fully dissolved in cold water.
Proceed to put the safety vest in the cold water and let it soak for about twenty to thirty minutes. Gently rub the collar cuffs with stains and dirt and brush lightly enough to destroy the fabric with a soft brush.
After washing the safety vests, you should not dry them in a dryer or attempt to wring dry or force scrub. All these methods will destroy the reflective material in the screwing process. Instead, air-drying the clothing will fully dry it, and your safety vest will be still intact.
However, keep in mind that as you are air drying it, sun exposure is not suitable for the reflective material since it will weaken and reduce the safety vests' reflective effect. Ensure you just air dry it in the shade.
Bleaching agents are not an option since they will bleach the fabric and significantly damage the reflective tape.
If there are stains on your safety vests, ensure that you do not scrub the fluorescent materials. This will give out a worn-out appearance and significantly decrease the reflective effect.
The best option in this situation is to work with a clean, dry cloth and a mild stain remover that you are confident does not bleach and gently wipe the stained areas.
Notably, there are ideal cleaning products suitable for cleaning high visibility clothing, and they are Mr Clean Magic Eraser, Zout, Shout, Fels Naptha Soap, and OxiClean.
What Are the Features of the Safety Vests?
These safety vests consist of typical components that make up the whole clothing.
The first component is the fluorescent fabrics that incorporate unique pigments that are brighter than other colours and increase daytime visibility, especially in low light conditions such as dark, cloud cover, and dawn.
The three approved background colour options for safety vests are fluorescent orange, red, and lime.
The second component is the retroreflective tape that greatly reflects light in the light source's direction like a car's headlights and, in so doing, illuminating a person in low light or at night.
The third component is the excellently combined performance materials: the tape that is retroreflective and fluorescent.
What Are the Garment Type and Performance Class Designations of The Safety Vests?
When it comes to choosing suitable safety vests, there are many options to decide on. Characterized by reflective tape patterns and different colourways, selecting the appropriate apparel for the task can be challenging.
The recognised ANSI/ ISEA 107-2015 standard that is voluntary sets forward what is considered an approved fluorescent material and a reflective tape and what level of coverage and brightness are highly recommended for different work environments.
The ANSI 107-2015 standard recognizes four Performance classes: Class 1,2,3, and E, and three garment types: Type O, P, and R.
Performance Class 1 clothing provides the least number of high-visibility fabrics needed to distinguish the wearer from plain or non-complicated work environments such as factories and warehouses.
On the other hand, Performance Class 3 garments provide the most significant number of high-visibility fabrics to enable the best and precise definition of a human form in both a full range of environmental and complex backgrounds.
Mostly, you will find road or maintenance workers in highway work zones wearing Performance Class 3 clothing. Lastly, Performance Class 2 clothing falls between the Class and Class 2 in the number of retroreflective materials and background.
Additionally, Class E consists of bibs or pants. When paired with Class 3 or Class 2, the bibs/pants and tops' total collaboration is considered Class 3 or Class 2.
Moreover, the ANSI standard also recognizes three garment types. Type O is typically for work that takes place in controlled or off-road environments.
Type P is intended for public safety workers, and Type R for roadways.
Importantly, Garment types and Performance class are co-dependent, meaning that, for any safety vest to qualify under the ANSI standard adequately, the clothing must have both a Garment type and a Performance class and not just either.
What Are the Features That Most Workers Appreciate In Safety Vests?
All the personnel required to put on a safety vest are familiar with the features, benefits, and disadvantages of a safety vest.
Interestingly, some parts seem to impress the workers, which consequently enhances their work output. Workers appreciate the wicking material used in safety vests since it enhances dryness against the skin, which gives you a cooling effect.
The wider neck and sleeve openings in the safety vests enhance the worker's comfort and breathability.
Additionally, breathability is enhanced by the mesh material. The adjustable straps or drawstrings on the waist of some safety vets are ideal for a custom fit. The reflective tape at the side seams allows more room for an extra stretch.
What Is the Life Expectancy of The Safety Vests?
Notably, all the high visibility clothing has a limited durability time that significantly depends on the frequency of use.
The responsibility of the safety vests' durability lies on the safety professionals, employers, and the wearer to periodically evaluate every garment's required visibility and get rid of it when it is too dirty, or tears fade or even worn out.
If the safety vest is not visible from one thousand feet, be it day or night-time, it would be best to replace it.
Even though a safety vest's lifespan varies on the type of work conducted, the useful life is approximately six months if it is won regularly.
Does XING WEI Supply Safety Vests?
You can purchase safety vests from XW Reflective, which offers a diverse range of safety vests to enhance the visibility of cyclists, workers, police, pedestrians, and in low lighting situations per the light intensity conditions.
XING WEI Reflective offers professional vests with high requirements on the safety vest clothing intensity, adequately meeting the ANSI/ISEA 107 and EN ISO 20471 standards. Additionally, they can customize the safety vests with a logo and design imprint of your choice.
The running safety vests are popular among sporters and runners since they adequately enhance the visibility of people who wear them in poor lighting conditions to be safe.
At the same time, XING WEI Reflective works with affordable cost-reflective material that is of high quality to provide the best safety vests.
Frequently Asked Questions
· Is safety vest considered a PPE?
Yes, safety vests are considered personal protective clothing.
Safety vests are necessary high visibility clothing that is remarkably effective and important in saving countless lives and preventing more incidents that cause injuries and accidents, and sadly at times, death.
· What is the purpose of safety vest?
These high visibility vests guarantee safety in the most dangerous work, thanks to their tough but light material. Not only are these reflective vests affordable and effective, but they are also comfortable.
· Is safety vest comfortable to wear?
The worker's well-being and comfort are highly considered, and that is why safety vests are comfortable since they have a lot of room for movement and are breathable. Essentially, comfort will influence the employee's capability of carrying out tasks.
· Is it important to wear safety vest on a construction site?
Investing in the proper safety vests is incredibly important since it continuously keeps you safe regardless of what you are doing. Since safety vests are lightweight, affordable, comfortable, and durable, there is no reason not to wear one. Wearing a safety vest represents the fact that you are responsible for your safety.