High Visibility Safety Vests for Pets
---
XW-004 pet safety vest is one kind of fashion vest designed to fit a wide variety of dogs' safety. It could protect the dogs with a reflective safety vests to allow them to be seen earlier on road. Sizes and designs are customized available. Kindly contact us with your dogs' neck and chest circumferences in order to fit and comfort your dogs.
The manufacturing principle of reflective safety vest is to make use of heat transfer technology to print reflective materials on the vest, or sew the polyester reflective strips on the vest.
In terms of the safety effect of reflective clothing, when the relevant lines are illuminated, the reflective vest will reflect the lighting, thus the reflective effect can be achieved.
Moreover, this reflective vest can reflect the distant direct light back to the light-emitting place and has good retroreflective optical performance no matter in the day or night. So this can enhance the visibility of people at the night, ensure safety at night.
Therefore, Reflective vests generally used in warning clothing, such as traffic police, sanitation.
But with the rise of fashion storm, it is also gradually applied to daily clothing, with the reflective intensity above 350cpl. So wearing the reflective T-shirt is not only has a fashionable personality but also plays a warning role to protect pedestrian safety!
♦ Reflective Pet Safety Vest Data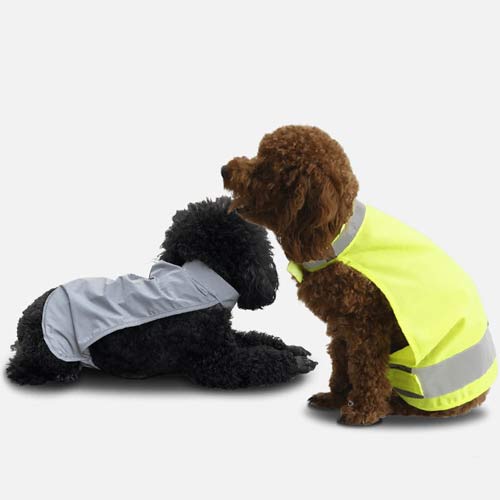 | Item Name | Reflective Pet Safety Vest |
| --- | --- |
| Color | Fluorescent Lime/Orange |
| Fabric  | Solid Tricot |
| Size  | S/M/L |
| Closure | Hook and Loop |
| Reflective Strips | 2cm Silver Reflective Tape/1.3cm Silver Reflective Piping/Silver Hear Pressed Claws Shape |
♦ Safety Reflective Vests Designs 
Here are are the classic and popular designs, however, we accept custom style, free design, support printing, logo printing, samples available.
♦Safety Clothing Production 
Quality Control
Our QC staff is in charge of quality inspection, including thread cutting, checking whether the front and back sides are wrapped completely, checking whether the pockets are neat, and then the next process is packaging
Package & Leading Time
Package Description:
100 pieces/box
one box size : 45 * 25 * 48M
Gross weight: 13KGS
Leading Time: 20-30 days
MOQ: 500 pcs for design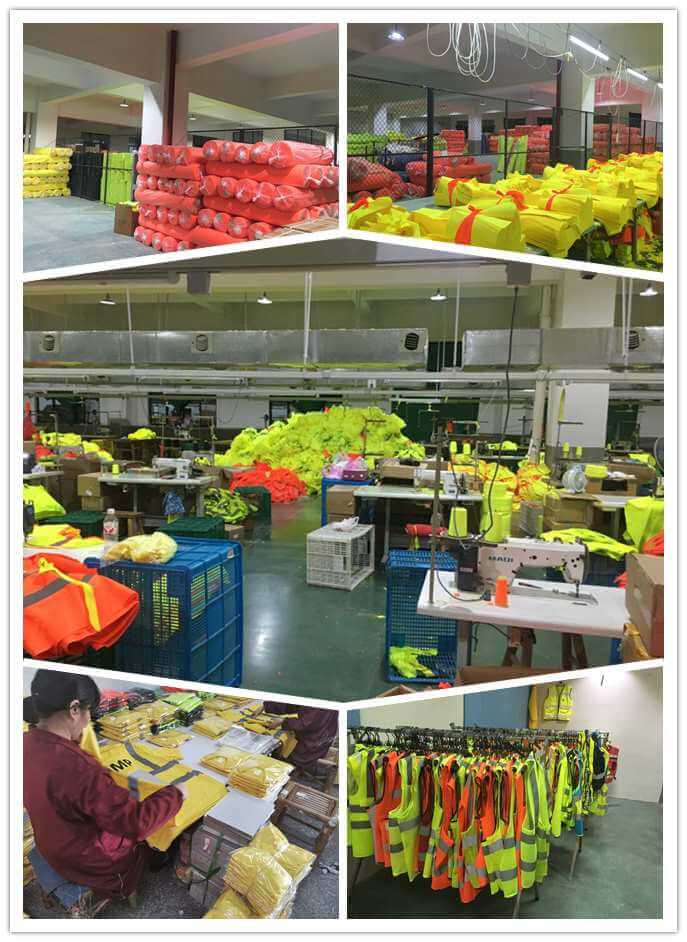 ♦ Q&A
Who is wearing a reflective pet safety vest?
Someone who needs to work continuously at night, such as traffic police, sanitation workers and construction sites, etc.
When the external light is insufficient, your pet can't see the surrounding situation clearly, and it's easy to have an accident. So it is necessary to wear a reflective safety vest in their life. Of course, we can also customize many very fashionable clothes for young people.
So our clothes are not only suitable for the staff with the warning functional needs, but also suitable for the young people who pursue fashion.
How to make the reflective pet safety vest?
Fluorescent Solid Tricot fabric, silver reflective tape.
What is the benefit of wearing t-shirts? 
Suitable for night operation or traffic command; emergency rescue command site; production site; emergency rescue site.
Can you do OEM? 
We accept custom style, free design, support printing, logo printing, samples available.
What is the instruction for reflective pet vests?
The cleaning temperature of the reflective vest is 40 ° C (please refer to the clothes label for the specified cleaning times), and gradually reducing the cleaning temperature.
Reducing mechanical operation.
Do not use bleach.
The temperature of the bottom of the iron is 110 ° C, and steam ironing may cause damage to the clothes.
No dry cleaning, no solvent decontamination. Do not dry the drum.
It is forbidden to use strong alkaline detergent, washing solvent, or bleaching agent.
What is the storage instruction and performance? 
Reflective vests should keep in the original packaging, away from light and humidity. and reflective t-shirt meets the requirements of GB/20653, harmless, comfortable to wear, waterproof and breathable, good flexibility, grade 2 of reflective fabric.
Precaution of wearing the reflective vest 
Before wearing, check to make sure that the clothes are not dirty or worn, otherwise the performance will be affected. Check to make sure that the grey reflective stripes are outside the vest and the straps on the shoulders are also in front of the vest to ensure that the stripes remain in place during use. The reflective vest should be fastened at all times. It is forbidden to wear vest except for the above regulations.
♦ CONTACT US
---
If you are interested in our rainbow reflective material, please contact us for a quick quote!